Marketers, regardless of industry, have a complex question to contend with: how do you consolidate the data stored by your various data platforms including POS, e-Commerce, CRM, Booking Management, and others into usable marketing information?
To reduce marketing waste and ensure consistent communication with customers throughout their customer journey, marketers must leverage a singular view of their customer base. With best-in-class data consolidation processes and omni-channel marketing capabilities, Ascent360's solutions enable marketers to communicate with their customers and prospects at a true individual level and increase their ROI.
Read this article to learn about Ascent360's approach to data consolidation and mapping, some of the challenges many marketers face in this space, and why many marketers choose Ascent360.

Ascent360's approach to data consolidation and mapping
Understanding your customers and prospects on a deeper level starts with getting all your data into one centralized location. This includes customer information, purchase history down to the product/line item level, and general engagement information. As part of the data integration process, we align these various data points across your platforms, fill in gaps and can even augment missing information and enhance and grow your customer database.
The result: a singular clean view of your customers in one user-friendly marketing platform.
The below example represents how Ascent360 takes varying data points across different data sources and aligns to a single view within the Ascent360 platform. This process removes the burden of data consolidation and cleansing from the marketer as they look to leverage more and more systems in their marketing strategies.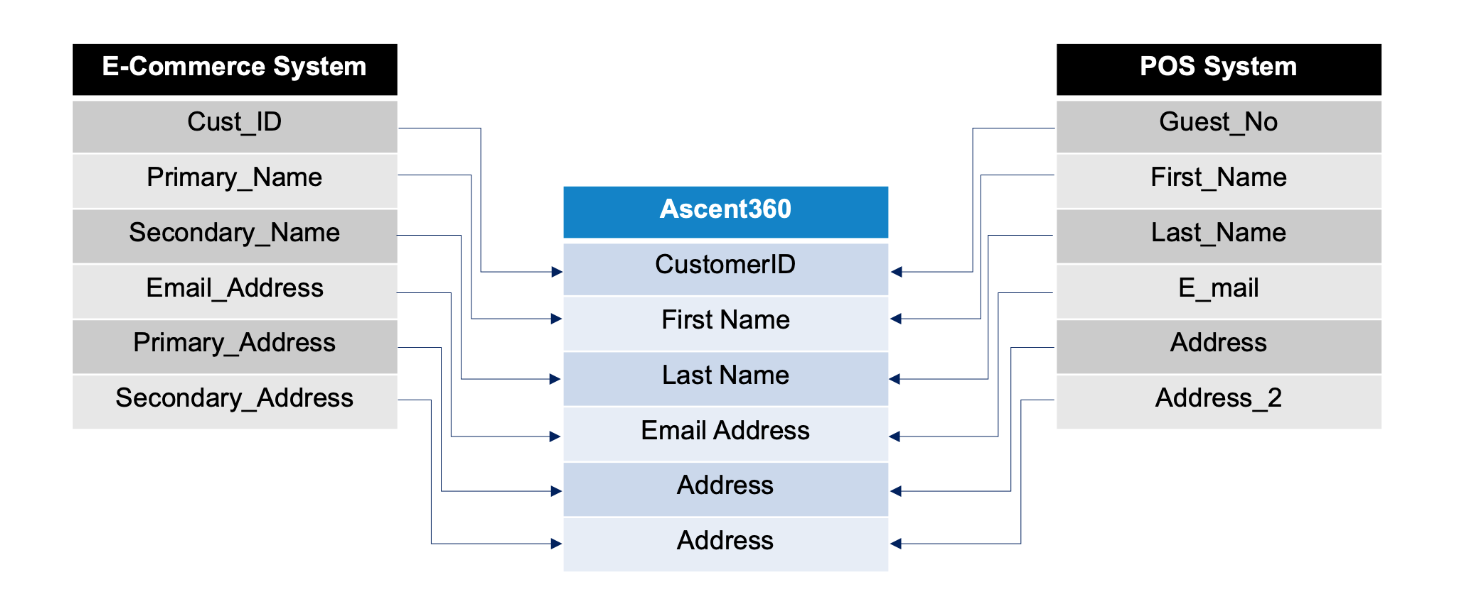 Challenges & Marketing Needs
As businesses add more and more complex data systems into their technology stack, it becomes increasingly difficult to gain insights and market against this data in a comprehensive fashion. The differences between how data is stored in one system versus another can vary widely, resulting in difficult joins to try to understand customer journeys. The more systems that are added, these difficulties grow exponentially. With many marketers having limited technical resources, it is critical to find the right solution to cleanly consolidate this data and make it useable across marketing channels.
With a user-friendly and omni-channel approach to marketing in mind, many businesses have turned to Ascent360 to solve these problems.
Why? The Ascent360 platform enables marketers to solve some of their most complex challenges:
Integrate and cleanly consolidate data from varying sources, focused on marketer usability
Unlock and leverage customer data to better understand your customers' journeys and gain valuable insights
Create opportunities for omni-channel customer engagement
Tailor your creative and strategies to communicate with your customers most effectively
You can learn what today's leading ski resorts, bike and jewelry retailers, and outdoor brands are saying about Ascent360 here.

Marketers, Take the Next Step
If you are a marketer looking to make the most of your customer and prospect data and automate proven marketing campaigns that increase revenue, check out our solution here. Or you can also request a demo of the Ascent360 platform by clicking the button below.