Most marketers know that targeted, personalized, and timely messages drive higher engagement, conversion, and lifetime value from customers, but aren't sure where to begin. The Ascent360 Platform allows you to aggregate your customer and transactional data into one place with an easy-to-use interface. With Ascent360, marketers can easily create segments and automations for targeted direct-to-consumer marketing efforts that constantly work behind the scenes to strengthen relationships and drive sales. At Ascent360, we call these automated campaigns "A360 Plays."
When it comes to figuring out the best way to get started with Data Driven Marketing, we believe in following a Crawl, Walk, Run strategy. That means starting with basic proven A360 Plays and moving into more sophisticated and specialized A360 Plays over time.
A360 Plays in the Crawl Stage, serving as the basic communications that customers have grown to expect, can be automated to lighten your day-to-day workload. The crawl stage A360 Plays also require minimal up front data collection other than customer and transaction information, putting less burden on your operational staff.
Let's take a look at a few proven Crawl A360 Plays that any organization can use to get started with Data Driven Marketing.
Brand Building & Conversion A360 Plays
A360 Play: Prospect Welcome
A welcome series is a tried-and-true brand building and conversion-driving email Play. They help immediately start building a relationship with your prospects to drive conversion.
Who: New email subscribers who have not yet made a purchase.
What: Best practices are to use a series of 2 - 3 emails designed to educate and/or motivate subscribers and drive conversions. A first-purchase discount is often employed in one of the emails.
When: Send the first email the day of email sign-up and complete the series within 2 - 3 weeks.
Why: The purpose is to introduce your brand to prospects and start nurturing a relationship before they even make a purchase (while driving them toward that first purchase).
Impact: Welcome emails generate 4x more opens and 5x more clicks than regular email marketing campaigns. Plus the average open rate for welcome emails is a whopping 50% which makes them 86% more effective than standard newsletters
A360 Play: New Customer Welcome
As customers make their first purchase and sign-up for email via a transaction, welcoming them to your brand is still important. A welcome note helps build a relationship with your customers to drive repeat purchase and loyalty.
Who: First-time customers who subscribe to your mailing list during purchase.
What: 1 - 2 emails in addition to the purchase confirmation.
When: Begin your series within a day or two of the first purchase.
Why: The goal is to help customers understand what to expect from your brand and what they'll be hearing from you in the future to start building a customer relationship and nurturing brand loyalty.
Impact:

50% of your repeat purchases happen within 30 days.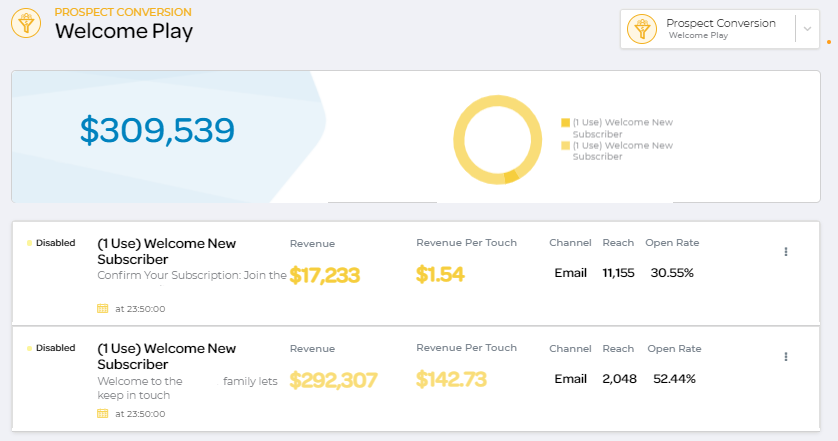 Customer Retention A360 Plays
Even a 5% increase in customer retention can lead to an increase in profits between 25% and 95%, which is why customer retention A360 Plays drive loyalty and are go-to plays for marketers.
A360 Play: Retail Customer Review
Asking a customer what they think of a product and driving them back to your website increases their engagement with your brand and likelihood that they will purchase again.
Who: Customers who have made a recent purchase.
What: Ask customers what they think of their product and to leave a review.
When: 2 - 4 weeks after a customer makes a purchase.
Why: Asking customers what they think of their product keeps them engaged with your brand, and driving them back to your website increases the likelihood that they will make another purchase. The bonus for your brand is that you get authentic customer content in the form of a review.
Impact:

A 5% increase in customer

retention can lead to an increase in

profits of between 25% and 95%.
A360 Play: Life Event
Customers expect personalized communication. Leveraging your data about them to deliver targeted messages improves loyalty with your brand.
Who: Any customer or prospect that you have a birthday or anniversary for.
What: Wish customers a happy birthday or anniversary. Can also offer a special or value add with purchase.
When: At a minimum within the same month, ideally just before or on the day of the event.
Why: Acknowledging life events with customers builds a relationship and drives loyalty. Birthday email, particularly with offers, drive up to a 60% lift in conversion.
Impact: Birthday emails can have up to a 60% lift in conversion rates compared to other marketing emails.
A360 Play: Travel/Hospitality Booking Anniversary
| | |
| --- | --- |
| A Booking Anniversary Play reminds a customer of a great trip from the past and encourages them to book again. This Play can provide a sense of urgency to not miss out on an exclusive offer that is informed by previous trip experiences. | |
Who: Any past customer.
What: Remind guests that a year ago they booked their trip or stay. (This can be personalized by product.)
When: 1 year from previous purchase, date of lodging or date of arrival.
Why: Bring your brand top of mind to customers at a time when they're likely considering a trip again. Drive conversion for this year.
Impact:

It costs 16x more to bring a new

customer up to the same level as a

current one.
These are just a few of the Crawl A360 Plays you can run using Ascent360. And only the very beginning of all of our A360 Plays that cover the Crawl, Walk and Run stages. One of the great things about our platform is it makes marketing easier and gives marketers the opportunity to strengthen relationships with customers while driving ROI.
Ready to start connecting with your customers and increase sales? Take a tour of our data driven platform by requesting a demo below.