Alpine Shop is a leading outdoor retailer with four locations in Missouri and Kansas. Over 45 years in the business, they grew from a small climbing shop into a thriving hub for outdoor enthusiasts of every stripe: from backpackers, hikers, campers, paddlers and cyclists to snowboarders and skiers.
With a motto to see "generations transformed by discovery outdoors," Alpine Shop focuses on building community with the right customers through special events, data-driven marketing and surveys. The retailer has used Ascent360's proven, automated marketing campaigns and data analysis tools to stay at the top of their game for over 10 years — even through the pandemic.
Building community through segmented events
Alpine Shop has a goal of communicating with the right person, at the right time and in the right place. Events help them find the right people, while strengthening their local communities in the process. With a pre-2020 average of 260 events per year, Alpine Shop has been incredibly successful at utilizing events as a means to drive revenue and sales. Events include instructional clinics that teach customers key skills and show them how to use their outdoor gear, as well as trail runs, bike and paddle races and adventure races.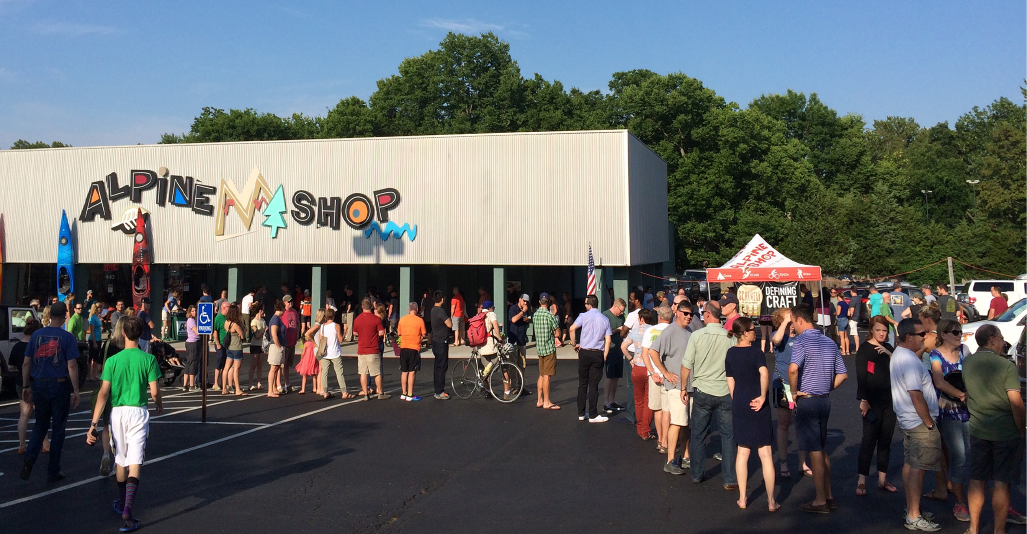 The pandemic has forced Alpine Shop to rapidly adapt in-person events to a virtual format. Instructional programs are being held via Zoom, while races are adopting a hybrid live-virtual model. Using an online platform, racers can track their results and compete while remaining socially distanced, completing courses on their own time over a period of several days. Events following this format include the Meramec Marathon Paddle Race and the Shaw Bloom Trail Run, their largest event of the year, which typically draws up to 500 participants.
Their wildly popular Castlewood 8-Hour Adventure Race is the third-largest amateur adventure race in the country, with over 300 average participants ranging from seasoned outdoor explorers to families with small kids. Held the first week of December, when temperatures fluctuate wildly, this event is a top driver of gear sales, since participants are often newcomers and need to be prepared for weather extremes. This event will also follow a socially distanced format.
Customers who attend events make purchases and spend more
Events are one of the best ways outdoor retailers can build strong customer relationships. Alpine Shop's Vice President of Marketing, Todd Oswald shares,
Events are a great way to build strong, lasting relationships with customers since they get people actively engaged with the brand through a fun and memorable activity. Rather than simply going into a store and making a purchase, events leave attendees with an achievement they can be proud of.

- Todd Oswald, Director of Marketing at Alpine Shop


Events are marketed to all skill levels, which makes first-time participants feel more comfortable signing up. The event experience is a great way to get newcomers hooked on a new hobby. These attendees also need gear to compete, driving traffic back to physical and online stores.
Additionally, "social media is an effective platform for organically promoting events," Oswald notes. Photographers document all races from a safe distance and post photos that participants can easily share, strengthening their relationship with the brand while bringing in new, prospective customers.
Alpine Shop's community-focused approach directly drives revenue: Nearly half of attendees make a purchase after their first event — more than any other source of customer acquisition. What's more, customers who first engage through an event spend 55% more than those who initially engage through a purchase, but never attend an event.

CUSTOMERS WHO FIRST ENGAGE THROUGH AN EVENT SPEND
55% MORE
Customers convert quickly via email, even during COVID
Sales are driven not only by the event experience, but also through a post-event email campaign that thanks the participant for joining. The first email includes a coupon code that offers a discount to anyone who completes a follow-up survey. This survey allows Alpine Shop to gather valuable customer feedback about how the race went and which activities participants like most. It also builds a post-event roster that helps them track sales before and after the event.
Alpine Shop also drives customer email acquisition through a contest that enters those who sign up for emails into a drawing for a gift card. This is an effective way to both capture customer data and entice them into the store.
Once these prospects become customers, the Ascent360 platform offers data and predictive analysis tools to help the retailer better understand their behavior. By analyzing survey data, Alpine Shop can track customer spending and see how effective events are at driving sales. They can even see which items shoppers buy after their initial purchase, informing marketing communications.
Thanks to these data-driven tactics, Alpine Shop converts customers faster than most other companies, with 41% of customers making a repeat purchase within 30 days. Even in the height of the pandemic, with most in-person retail operations frozen for months, 46% of people who became a prospect in March 2020 became customers in the following six months. What's more, the average customer conversion time frame is 12 days, and they spend $142 on their first purchase.


41%
OF CUSTOMERS MAKE A REPEAT PURCHASE WITHIN 30 DAYS
Repeat purchases drive revenue
Alpine Shop keeps customers engaged over time by sending what Oswald calls "messages that matter." The data collected from surveys drives interest-based segmentation that enables targeted post-purchase marketing campaigns, allowing Alpine Shop to serve customers highly relevant and dynamically updated content that brings them back in the store.
In fact, 73% of revenue is driven by just 20% of Alpine Shop customers, proving how valuable return traffic can be. A significant percentage of these customers have made more than one repeat purchase, with many coming back for 10 transactions or more.
73%
OF REVENUE IS DRIVE BY JUST
20%
OF ALPINE SHOP CUSTOMERS
Curious to learn more about Alpine Shop + Ascent360? Check out this on-demand video.