We are thrilled to announce our latest customer: Bicycle Sport Shop! This new partnership is on the heels of our marketing solutions purpose-built for bike retailers to sell more bikes with targeted offers.
About Bicycle Sport Shop
The Texas-based company is a five-location bike retailer offering sales, service and rentals to riders of all ages.
Being active in their community is important to the retailer as they also host rides, classes, clinics and demos throughout the Austin area. These include free all-level shop rides and women's social rides; supported event rides, such as the Real Ale Brewery's Real Ale Ride; maintenance classes, such as changing a flat; skills clinics for road, mountain and cyclocross riders; and demos that provide customers extended test rides.
Bicycle Sport Shop's Shift to Virtual
Due to the pandemic, some in-store shopping, events and classes have been suspended. Just like many other retailers across the globe, this shift away from "business as usual" has impacted Bicycle Sport Shop's customer engagement and service.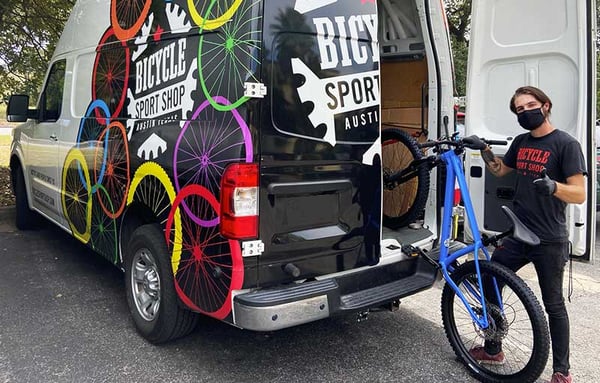 One of the reasons the retailer selected Ascent360 was to combat the lack of in-person events. Utilizing the Ascent360 platform to identify high-value vs. lapsed customers, and drive return business through automated marketing campaigns. The objective of the new partnership is to enable Bicycle Sport Shop to build virtual relationships through distinct marketing campaigns.
Ashley Hitson, Creative and Marketing Director at Bicycle Sport Shop shares her perspective, "providing a welcoming space for riders of all levels is our goal, and we're set apart by our high-touch experience. We love riding bikes, and we strive to share that joy of cycling with each customer, whether they're a pro or just starting out."
Bicycle Sport Shop's owner Hill Abell shares why the retailer selected Ascent360:


We're known for our personalized service at Bicycle Sport Shop, and Ascent360 will help us virtually recapture that spirit. Communicating with customers on an individual level allows us to provide great service, even while in-person interactions are limited.
How Ascent360 Can Enable Bike Retailers, Even During Tough Times
At Ascent360 we know that maintenance packages, gear add-ons and upsells are other key revenue drivers for IBDs. That is exactly we have built solutions that are tailored to meet IBD's unique goals. By working with retailers like Mike's Bikes and Alpine Shop, and now Bicycle Sport Shop, we have learned that personalized marketing campaigns and targeted offers is what drives increased bike sales.
When your IBD works with Ascent360, you can expect an easy-to-implement solution for crafting personalized, automated messages, delivered at just the right time. We empower your team to successfully segment, engage with and expand return traffic from high-value customers.
Scott Buelter, Ascent360's CEO and president, states "the software will help Bicycle Sport Shop create data-driven campaigns to amplify the purchasing power of existing customers, even without in-store shopping."
Looking Ahead to Bicycle Sport Shop + Ascent360
"Authentic marketing begins with knowing your customers," Buelter says. "Ascent360 offers rich insights that help retailers like Bicycle Sport Shop harness the power of customer data they already have, driving revenue growth year over year."
We look forward to helping Bicycle Sport Shop understand their customers, build virtual relationships with those customers, and ultimately increase their revenue - even during tough times. If you are a bike retailer looking to drive deeper customer engagement with proven bike retailer marketing campaigns, check out our solutions here.
To learn more about our latest customers, Bicycle Sport Shop, read the full news announcement by clicking the bottom below.