The COVID-19 pandemic has proven to shift the ways that many of us conduct business, engage with customers, and develop marketing strategies. Prior to the pandemic, many bike retailers could foster customer relationships and build community through in-store interactions and during in-person events. Now, bike retailers must find different ways to remain top of mind as the busy Spring season approaches.
To stay connected with customers, popular Boston-based Wheelworks Bicycle Stores will utilize the Ascent360 data driven marketing platform.
About Wheelworks
Wheelworks opened in 1977 in a tiny Winchester, Massachusetts, storefront that could only accommodate 12 bikes. Today, the retail chain includes three full-service Boston-area shops, including Belmont Wheelworks, ACE Wheelworks and Wheelworks TOO.
With one of its founders, Peter Mooney, being a custom frame builder, Wheelworks has always emphasized proper bike fit. As part of its commitment to providing the right choices and a great shopping experience, Wheelworks offers a complete stable of bikes, ranging from kids to cargo to electric to road and mountain bikes and everything in between.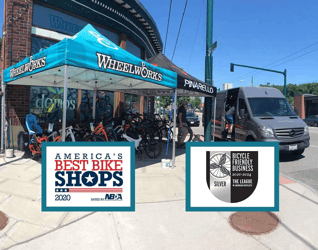 Wheelworks is cherished throughout Boston's cycling community and renowned across the cycling community at large. They have been honored as the "Best Bike Shop" from Boston Magazine numerous times, awarded as "Best Pro Shop" from Bicycle Retailer and Industry News three times, and taken home "Best Shop of the Year" from the Adventure Cycling Association. Wheelworks prides themselves on offering a wide range of bicycles, apparel and accessories so their customers feel taken care of and informed at all times.
Wheelworks' Shift in Marketing Strategy
With their long string of local and national awards, Wheelworks' customers clearly appreciate the in-store shopping experience. However, once the pandemic hit, the shop struggled with sustaining strong relationships with customers who were spending more and more time online rather than visiting stores. This is a shared challenge across many retailers.


"As the pandemic dragged on, we realized we needed new ways to connect with customers. Although our stores were open, our phone and email interactions skyrocketed, we felt like we were losing genuine connections with many in the community."

- Tom Cohen, Ecommerce Manager at Wheelworks

The bike retailer selected Ascent360 for our strong reputation with outdoor brands and leading bike shops including Mike's Bikes. Additionally, finding the right culture fit was an important consideration for the Wheelworks team as "this is all new to us and Ascent360 felt like a good cultural fit," according to Cohen.
A Data Driven Marketing Solution
Utilizing the Ascent360 platform, Wheelworks can now easily keep customers informed on seasonal accessories or bikes they may be interested in by sending messages that matter. The bike shop will be able to build customer segments based on purchase history and behavior, product value, demographics and more. Wheelworks has access to a library of automated marketing campaigns that will help keep the shop top of mind as their customers are looking to make their next purchase. The team also looks forward to Ascent360's revenue attribution feature to see the revenue generated from specific campaigns.
Scott Buelter, CEO at Ascent360, noted that for shops who cater to a wide range of customers like Wheelworks, starting an effective digital marketing program can be daunting. "The advantage of the Ascent360 platform is that within a matter of weeks from integrating it with their Lightspeed POS, Wheelworks can use our proven automated campaigns to start easily sharing timely and highly relevant emails with customers. And that should be game changing throughout the remainder of the pandemic and beyond."
If your bike shop is looking to strengthen your customer relationships and stay top of mind, request a demo of our marketing automation platform by clicking the button below.